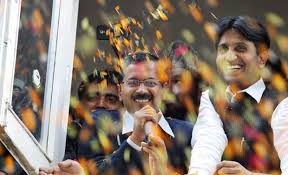 In DELHI election all the main political parties are gearing up for the elections and have created strategies for valuable campaigning in the city. The elections are going to be largely an AAP against BJP affair. The first elections for the Delhi Legislative Assembly were held in 1993 in which BJP emerged successful and the last one assembly elections were held in Delhi in 2013 in which Aam Aadmi Party won as many as 28 seats and formed its government with outside support of Indian National Congress.
Now in 2015 elections Aam Aadmi Party (AAP) took a huge lead in trends for the counting of votes in the Delhi assembly polls on Tuesday, racing ahead in 61 seats of the 70-member House and leaving its main rival BJP trailing far behind. After the result of Delhi polls Arvind Jha said AAP: People are responding to our positive agenda and PM Modi calls up Kejriwal and congratulates him. This could be the biggest ever win for a party in Delhi.
The BJP had projected former IPS officer Kiran Bedi as its chief ministerial candidate after her surprise induction days ahead of the polls. The Congress, which ruled Delhi for 15 years until December 2013, was given at best four seats by the forecasts. The AAP Tuesday raced towards a landslide win in the Delhi assembly election, with the BJP congratulating AAP leader Arvind Kejriwal.