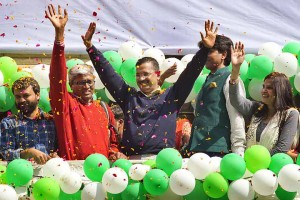 Delhi Assembly Election Results: AAP wins 43 seats, Arvind Kejriwal set to become CM.
Delhi's official name became National Capital Territory of Delhi with assembly to be elected by citizens, a council of ministers and a CM. The first Delhi's assembly poll under the new dispensation was in 1993, which BJP won. Congress won the three subsequent elections, and the last one in 2013 produced a hung house.
AAP leader who had been written off by everyone after the 49-day government in Delhi and the mauling in the 2014 Lok Sabha elections.
BJP volunteer said that "We have prayed to Hanumanji in the afternoon and also we will go for a puja in the evening to a Shiv Mandir in the evening,".
And AAP said that "for the last two days we could not sleep after the exit poll results were shown but tomorrow all these results will be proved wrong and we will form government in Delhi."
The AAP has won 43 seats and is leading in 24 seats as the counting of votes progressed and is set win more than 90 per cent of the seats.
Kejriwal will take oath as Chief Minister on February 14 at the Ram-lila Grounds, the platform that launched him during the days of India Against Corruption, exactly one year after he stepped down.